Heat Pump VS. Furnace: Which is Better For Texas Homes?
Looking to invest in a new heating system for your Texas home? You may be trying to decide between a heat pump and a furnace.
So, which is the best choice?
Unfortunately, there isn't one clear, correct answer because both systems are good heating systems. If you live in a warmer part of Texas where winter temperatures almost never drop below 35° to 40°F, we'd say a heat pump is typically your best option. However, if your climate is cold in the winter and winter days drop below 35°F, you'd most likely be better off with a gas furnace IF your home has access to natural gas (more on that later).
However, there are a few factors to consider that can help make your decision a little bit easier:
Your access to natural gas
The condition of your AC
Upfront and operating costs
This article will go over each of the above factors in greater detail to help you determine which system is best for you. But first, let's look at the difference between a heat pump and a furnace and how the climate in Texas will play a role in selecting one over the other.
---
Need advice on your next heating system? Call Jon Wayne today and rest assured that our licensed technicians will give you honest advice, a free estimate for whichever heating system you need, and fair installation pricing. Call, text, or schedule online to get started.
Schedule Service
---
The Difference Between Heat Pumps and Furnaces
Heat pumps have the ability to heat and cool your home, while furnaces can only heat your home.
Heat pumps are designed to work as both a heater and an air conditioner, so you'll only need one system. Since furnaces can only heat your home, you'll need to pair your furnace with an AC system to keep your Texas home cool in the summer.
Heat pumps do not create heat like furnaces do, they transfer heat. Because of this, heat pumps work much more efficiently in climates with mild or moderate temperatures. We'll explain…
In the winter, heat pumps absorb heat from the outside air and move the heat inside to warm up the air in your home. Although heat pumps have the ability to draw heat from the air (even when it's pretty cold outside), it takes more energy to do so. When the temperature outside dips below 30 degrees Fahrenheit, heat pumps often can't pull enough heat from the air outside to warm your home. In places where the weather is really cold or often drops below freezing, heat pumps are less efficient than furnaces.
The average annual temperature in Texas is 65.3°F, with summers being hot and humid. Since winters are typically pretty mild in Texas, a heat pump should suffice in most locations throughout the state. However, if you live in the northern border or prefer warmer temperatures inside your home during winter, you may want to opt for a furnace.
Your Access to Natural Gas
Furnaces run on gas and heat pumps run on electricity. If your home does not have access to natural gas, a heat pump may be your best option. While you can always install an electric furnace, natural gas is less expensive than electricity, so a gas furnace is typically preferred over an electric one.
In Texas, it's rare for homes to not have access to a gas line, but if yours doesn't have access, you may be better off installing a heat pump.
If you have access to both natural gas and electricity, you can install a dual-fuel system. A dual-fuel system pairs an electric heat pump with a gas furnace and alternates between the two fuel sources to maximize comfort and efficiency. Most dual fuel systems use heat pump heating on days where the temperature is above 35°-40°F. Once temperatures drop below 35°F, the system automatically switches to gas furnace heating. This type of system allows you to enjoy the lower operating costs of a heat pump without the high price of backup resistance heating.
The Condition of Your AC
Whether or not you have an air conditioning system, as well as its condition, can impact your choice when deciding between a heat pump and a furnace.
Purchasing and installing a heat pump is more expensive than purchasing and installing a furnace or air conditioning system alone. So, if you have a new AC system that's in good condition and is working efficiently and you're strictly in the market for a new heating system, installing a furnace is likely the most cost-effective option.
If you don't have an AC, then a heat pump would be a great option since it can double as both a heating system and a cooling system.
Upfront and Operating Costs
In Texas, the most basic, no-frills heat pump installations start around $6,595 and furnace installations start around $4,500. It costs more to install a heat pump than a furnace, but installation costs for both systems will vary depending on a variety of factors, including:
The size of the system
The system's efficiency
Any required ductwork modifications
Heat pumps are designed to use less energy than other systems. In warmer climates, high-efficiency heat pumps use less source energy on average compared to gas furnaces. In colder climates, 95% efficient gas furnaces fare better than ENERGY STAR® heat pumps. And, due to the relatively lower cost of natural gas versus electricity, lifetime operating costs should be considered as well. Plus, in super cold temperatures, heat pumps rely on "backup heating" which is much more expensive than gas heating.
In the long term, gas furnaces offer lower monthly heating costs than electric heat pumps.
---
Need Professional Advice? Jon Wayne Can Help!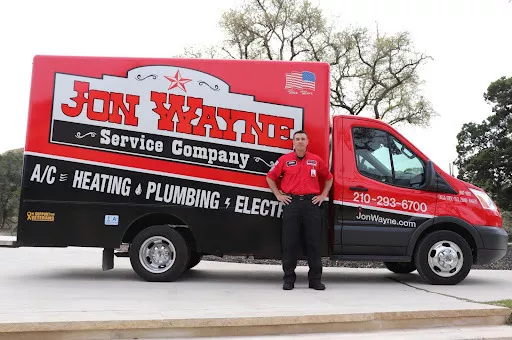 When you schedule heating service with a Jon Wayne technician, you can count on flat-rate, upfront prices, and honest, energy-saving advice. For exceptional customer service that puts your needs first, give us a call today. We're here to help!