Drain cleaning services in San Antonio, TX
Same-Day Convenience. Squeaky Clean Drains.
Average job completed in 1 hour

Licensed, insured plumbers

10,000+ 5-star reviews
Price
What's the cost of drain cleaning in San Antonio?
Low

$93

Average

$298

High

$487
What affects the price
The cost to clear/unclog your drain will depend on several factors, including:
Access to & into the pipe. Harder-to-access drains (i.e. clogs located behind walls or between floors) or clogs located farther down the pipe will cost more to unclog.
Nature of the clog (what is causing it). Tougher clogs, such as those caused by fats, oils or grease buildup, require more powerful tools and more labor, which increases cost.
Condition of the pipes. If your pipes are old, they may be corroded, which would entail replacing parts of the pipe.
How it works
Our convenient drain cleaning process:
Schedule appointment

A clogged drain can be a strain on your schedule. That's why we offer short appointment slots—so you don't wait all day for us to arrive.

Get red-carpet service

We'll show up on time and lay down our famous red doormats. We'll inspect the pipe and, if needed, perform a camera inspection to determine a flat-rate, upfront price to clear the drain.

Relax while we clear your drain

If you choose us to handle the job, we'll waive your diagnostic fee and clear your drain—that same day.

Enjoy a comfortable, clean home

We'll leave your home cleaner than we found it and promise never to make you pick up after us.
Schedule cleaning
100% satisfaction guarantee
"...above average customer care & service!"

I've been a happily satisfied customer of Jon Wayne for many years. Like the ole saying goes, "you get what you pay for!" They may cost a little bit more then the average guys, but they sure make up for it in the quality of their work and their above average customer care and service!

—Paul R.
How we treat the customer contributes to our reputation.
Need Drain Cleaning Service? Send for Jon Wayne!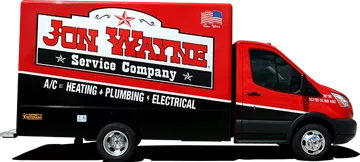 Proudly serving the San Antonio & surrounding areas:
New Braunfels
South Austin
Bee Cave

Kerrville
Kyle/Buda

San Marcos
Lockhart
Canyon Lake
and more...