Tank water heater installations in San Antonio, TX
High-Quality and Efficient Tank Water Heater Installations
We stand behind our Jon Wayne code of giving all San Antonio homeowners convenient and honest water heater installations. Customers know that we value providing high-quality, efficient work that helps them save money. Our promises are backed by offering same-day services, flat-rate prices and money-back guarantees.
We also offer tankless water heater installation services.
Free installation estimates

10-year parts & labor warranty on qualified new equipment

Affordable Payment Plans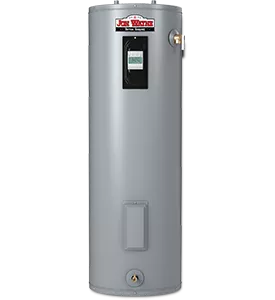 Price
Cost to install a tank water heater in San Antonio:
Low

$1,200

Average

$2,100

High

$4,500
What affects cost?
Many factors affect the cost of a tank water heater installation, such as the:
Efficiency of the water heater: The higher the unit's EF (Energy Factor), the greater the initial investment. A gas water heater in San Antonio should have an EF of 0.50-0.80.
Size of the water heater. Water heaters are sized by the number of gallons a full tank can hold. The larger the tank size, the more expensive the unit.
Code Requirements. We install the water heater to meet all code requirements.
Company you hire for the installation. Hire high-quality technicians even if the up-front investment is more. Choosing one will usually save you money in the long run because you won't need to pay for repeat work.
Jon Wayne Water Heater Installation
Installing a Water Heater
How it works
A smooth water heater installation process:
Schedule a free installation estimate

You won't have to burn PTO on us. We provide same-day installations and plan our day around you — not the other way around.

Get the red-carpet treatment & unit options

After a whole-home evaluation, we'll present options that are perfect for your home & budget. We'll also talk guarantees and warranties.

Relax during and after the tank water heater installation

No need to worry about spending all day on the installation, we'll be in-and-out in 4-5 hours. You'll stay relaxed after the installation because our quality control team ensures the job is done right.

Get your complimentary smart home upgrade

All installations come with a free smart home upgrade. We'll explain how to download and use an app which allows you to remotely control your home's water temperature and energy usage from your phone. This app also alerts you whenever there is a leak or outage.

Enjoy your free-of-charge 5-Star Service Club Membership

Your first year's on us. Plumbing tune-ups, 24/7 monitoring, emergency services, repair discounts and more are included!
Schedule free estimate
100% satisfaction guarantee
"Very good service ... very efficient and timely"

Very good service! Installation of new water heater was done in a very efficient and timely manner by friendly and professional personnel from Jon Wayne Service Company. Very pleased!

—Lana F. of San Antonio, TX
How we treat the customer contributes to our reputation.
Contact Jon Wayne for a tank water heater installation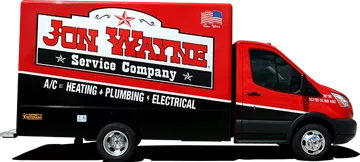 Proudly serving San Antonio & surrounding areas:
New Braunfels
South Austin
Bee Cave

Kerrville
Kyle/Buda

San Marcos
Lockhart
Canyon Lake
and more...