Whole-home air purifier installations in San Antonio, TX
Whole-Home Air Purifier Installations by Licensed Pros
Do you have allergies or asthma? Are you looking to breathe a little easier year-round? A whole-home air purifier can help with that.
At Jon Wayne, we have over 20 years of experience working with Texas homeowners to find the right air purifiers for their homes and budgets. Our NATE-certified technicians will help you find the best solution for your home and then install your purifier correctly the first time around.
We back up our excellent service with:
100% satisfaction guarantee

99% of jobs completed on the same day

Upfront, flat-rate pricing
Price
Cost to install a whole-home air purifier:
Low

$600

Average

$1,900

High

$3,400
What affects the cost?
The cost to install a whole-home air purifier depends primarily on the type of air purifier you're looking at.
High-MERV filters are the least expensive option. That's because they're basically a thicker version of the standard fiberglass AC air filter. As contaminants pass through the filter, they get stuck on the thick fibers, which prevents the contaminants from entering your home's airstream.
UV air cleaners are the mid-price option since placing and sizing a UV light into your AC system requires extensive HVAC knowledge. A UV cleaner uses UV-C light to sterilize any microbial contaminants in the air, rendering the contaminants harmless. UV air cleaners also have the benefit of keeping your HVAC system free of mold.
Electronic air cleaners are the priciest option because they can filter even the smallest particles, like tobacco smoke. Electronic air cleaners have a layer of vented metal and a physical filter. When air passes through the metal layer, a process called ionization forces contaminants in the air to cling to the physical filter.
Benefits
The benefits of whole-home air purifiers
A whole-home air purifier can provide many benefits that improve your home's indoor air quality. If you've been considering installing one, a whole-home air purifier can:
Reduce the number of contaminants, pathogens and viruses in your air
Alleviate symptoms for respiratory problems like asthma or allergies
Eliminate odors in your home
Sterilize your home's surfaces of bacteria, mold and mildew
Clean air in every room in your home
Improve the efficiency and lifespan of your HVAC system
Negate the effects caused by trace amounts of carbon monoxide
Operate quietly and hidden from view
Featured Video
Get the freshest air in YOUR home
How it works
Our easy process:
Schedule a free estimate.

We work around your schedule—not ours—with convenient 2-hour appointment windows.

Get your upfront pricing options.

Once we've discussed the best air purifier for your home, we'll provide free, upfront pricing for the installation.

Relax while we install your air purifier.

After the installation is complete, we'll test the system to make sure it's working perfectly and then walk you through how to use the system.

Give us your feedback.

If, for any reason, you aren't 100% pleased with the installation, give us a call and we'll make it right.
Schedule free estimate
100% satisfaction guarantee
"Beautifully clean air"

I started a fire in our fireplace with the damper shut. The smoke smell was horrendous. John Wayne came out right away to change out our filter. Through conversation, the service advisor told me about the Enviropure Whole House Air Purifier. I was at wit's end trying to get the smell out. As soon as the Enviropure was switched on, a beautifully clean smell started filling the house! I am so relieved and happy! Thank you!

—Cheryl C.
How we treat the customer contributes to our reputation.
Need a whole‑home air purifier? Send for Jon Wayne!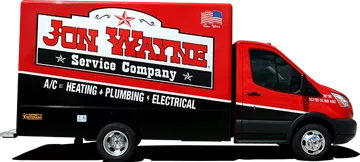 Proudly serving San Antonio & surrounding areas:
New Braunfels
South Austin
Bee Cave

Kerrville
Kyle/Buda

San Marcos
Lockhart
Canyon Lake
and more...