How to Locate Your Emergency Water Shut Off Valve
For the past 36 hours, homeowners have been battling freezing weather and the challenges that come with it. This includes rolling blackouts, issues with the heater and freezing pipes. However, as the weather warms up homeowners need to be prepared to face new challenges such as busted pipes.
Before the temperature warms and pipes begin to thaw we strongly recommend homeowners understand the how to:
Identify the location of their water shutoff valve
Shut the water off to their home
Identify the location of the water shutoff valve
The water shutoff valve is typically found in two locations. First, by the water softener. Closing the valve at the water softener will prevent water from going entering your house.
If you do not have a water softener find the city meter and shut off valve. These are most commonly found close to the city street.
However, it is not uncommon for them to be buried under top soil.
Know how to shut the water off to their home
After you locate the water shut off valve turn the handle clockwise to shut the water off.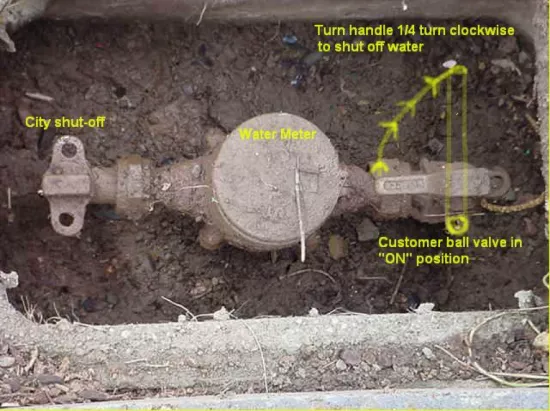 Have questions? Need a plumber?
Have questions about your plumbing? Need help turning off your water? Send us a message or schedule a service call.