How To Keep Your Utility Bills Low During A Texas Winter
Wondering how to keep utility bills low this winter? You're not alone. Across the US, heating and cooling accounts for the largest percentage of a homeowner's energy costs. And with such unpredictable temperature variations here in Texas, you need to be prepared for whatever the seasons throw at you.
The good news is that you can take steps to lessen your utility costs. To help you maximize energy efficiency this winter season, below we'll review why it's worthwhile to:
Automate lighting

Adjust thermostat settings when away from home

Change or clean your air filters

Use ceiling fans to circulate warm air

Have your ducts sealed
With just a few simple tips, your household can stay warm and comfortable without breaking the bank to do it.

---
Schedule a heating tune-up with Jon Wayne and start saving on energy bills today! No matter the condition, age, or type of heating system you have, rest assured that our licensed technicians will perform a thorough inspection and cleaning, complete with a "no winter breakdown" guarantee! Call, text, or schedule online to get started.
Schedule service
---
Automate Lighting
According to energy.gov, "lighting accounts for around 15% of an average home's electricity use." And as the days get shorter in winter, this cost only goes up. Why? Because to avoid coming home to a dark house, homeowners will leave lights on while away at work or running errands.
To save on electricity, you might consider installing automated lighting. Either through simple lightswitch timers (found at your local big box store for around $10) or a fully-integrated smart home automation system, you can schedule lights to come on and off at set times. That way, you can always return to a well-lit home— without paying for electricity when you're not there to enjoy it.
At Jon Wayne, we install comprehensive automated lighting controls, including smart light switches, dimmers, and energy monitors. To learn more, call us at (210) 298-7722 or book a free quote directly through our website.

Adjust Thermostat Settings When Away from Home
Want to save up to 10% on your heating bill? Turn your thermostat back 7°-10°F for at least 8 hours a day.
Many people are away at work or school for that 8-hour timeframe, but if you work from home, you can also take advantage of the time that you're sleeping. Simply adjust your thermostat before heading to bed, and then turn it back up when you wake up in the morning.
For even greater savings, consider investing in a smart thermostat. Controlled through a convenient smartphone app, you can pre-program your daily routines and temperature preferences. That way, your thermostat will automatically adjust when you're away from home, without you having to lift a finger when you return.
Premium smart thermostats such as a smart thermostat from Building36 will do the legwork of understanding your routines for you.
Schedule an appointment with Jon Wayne today to get a free quote on a Building36 thermostat for your San Antonio home. Our technicians have gone through specialized Building36 installation training and will be happy to answer all of your questions.

Change or Clean Your Air Filters
A dirty air filter can cause serious damage to your HVAC system. When the airflow is blocked by dust, dirt, hair, and other normal household debris, your system will go into overdrive, leading to longer run times and increased energy bills.
To limit unnecessary heating costs in winter, change or clean your air filters regularly. Depending on the type of air filter you have (standard carbon, high-MERV, electronic, etc.), your replacement schedule will vary, so it's best to schedule heating maintenance with a licensed technician who can inspect it for you.
And speaking of energy efficiency, heating maintenance isn't a bad idea either. Just like your car, your HVAC system needs regular inspections, cleanings, and lubrication of parts in order to run at peak performance. Moreover, you'll keep your manufacturer's warranty valid, limiting out-of-pocket expenses in the event of a breakdown.
Book a 35-point heating "super" tune-up with Jon Wayne today. We service all brands and models of heating systems and offer a "no winter breakdown" guarantee!

Use Ceiling Fans to Circulate Warm Air
Did you know that ceiling fans can be turned backward to warm your air? Even better, they can allow you to reduce your thermostat setting— saving you money on power— without affecting your comfort level.
Most newer fans come with a reverse switch that will change the fan's direction counter-clockwise. Once set, the fan will move cold air up and blow warm air down.
While older fans don't have this feature, if you set yours to "low," you can still enjoy some increase in warm air circulation.

Have Your Ducts Sealed
As mentioned above, heating and cooling account for most of a US homeowner's utility bill. So if your air ducts are leaky or damaged, you'll be paying to condition air that's escaping to unconditioned spaces (such as the attic, crawl spaces, and even your home's exterior). Not only will your home be less comfortable, but you'll also be throwing money away in the process.
Although it's a sizable investment,professional duct sealing can save you 30% on annual utility costs. That's no small feat, especially come summer when your AC is constantly running.
At Jon Wayne, we offer 5-star duct sealing services with a 100% customer satisfaction guarantee. For a free on-site estimate, schedule online today.

---
Want to Lower Your Utility Bills? Jon Wayne Can Help!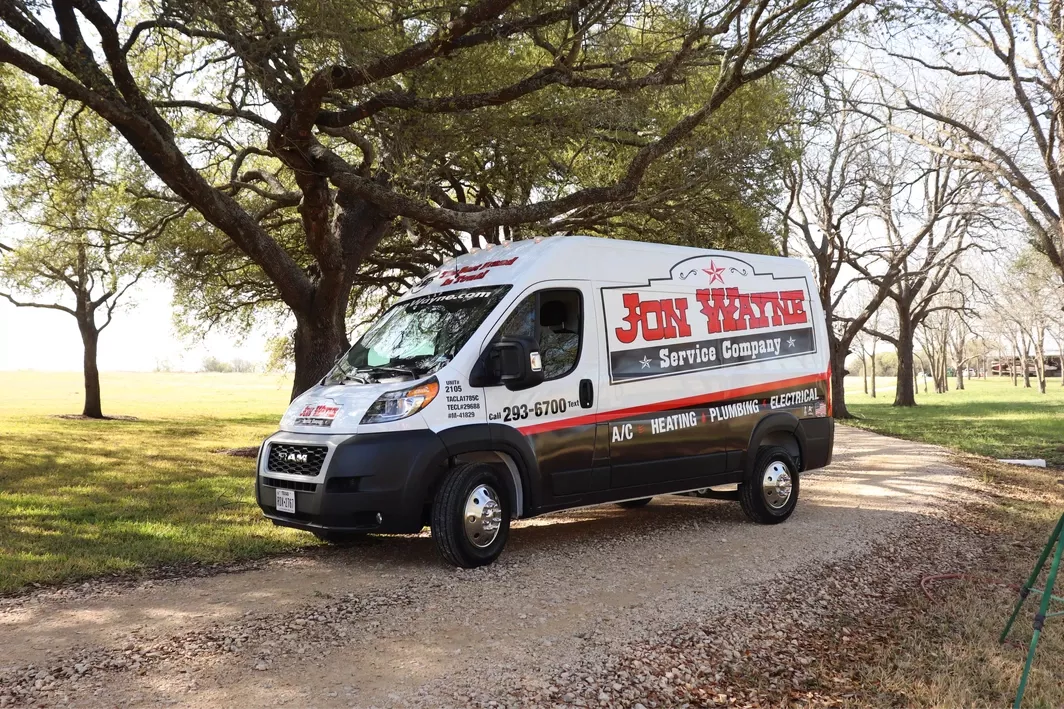 With more than 500 service trucks on the road, Jon Wayne's experienced, licensed HVAC technicians are equipped to handle your every heating need!
When you schedule heating maintenance with a Jon Wayne technician, you can count on flat-rate, upfront prices, and honest, energy-saving advice. For exceptional customer service that puts your needs first, give us a call today. We're here to help!