How Much is A Whole‑Home Generator in San Antonio?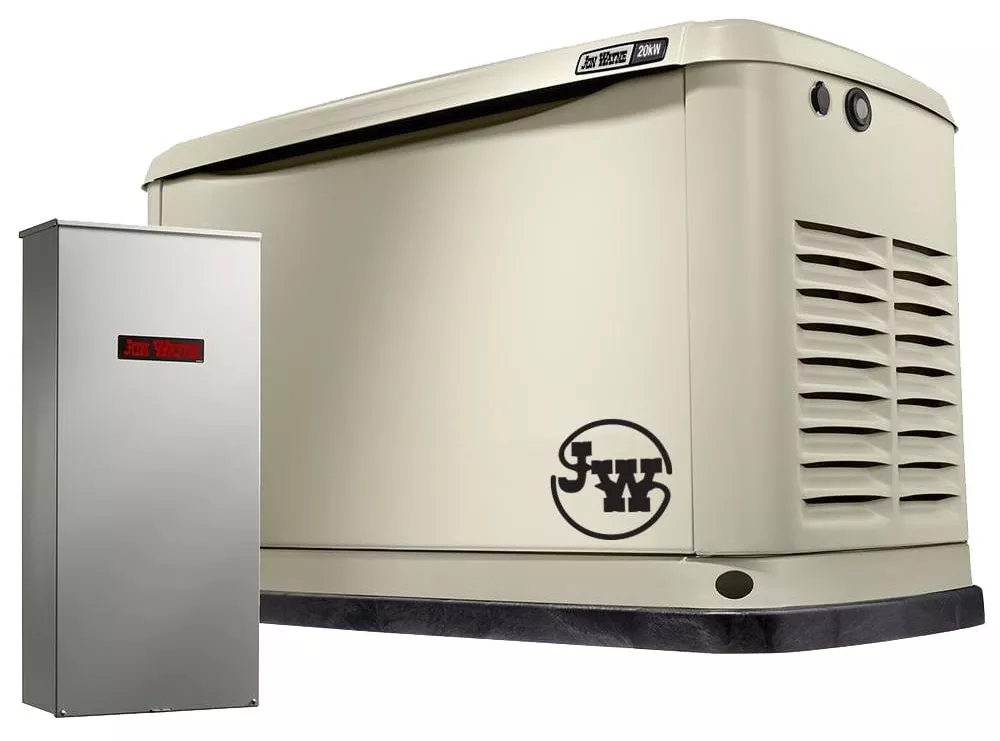 San Antonio is part of Flash Flood Alley, a region that starts in Del Rio and stretches to the Dallas-Fort Worth metro area. South Texas also has shallow soil, reducing the amount of rainwater absorbed by the ground. As a result, the region is extremely prone to flooding. When it floods, it's not unusual to lose power, bringing business to a halt and making it more challenging to do everything from cooking dinner to washing clothes.
To prevent lengthy power outages, many homeowners are turning to whole-home generators. Also known as standby generators, these systems provide backup power in an emergency. So, how much is a whole-home generator in San Antonio? Installing a whole-home generator in the San Antonio Area typically costs between $8,900 and $27,900. However, the exact price can depend on a variety of factors, including:
Generator size
Fuel source
Installation location
Electrical modifications, wiring, and permits
The service company you hire
---
Want an exact price estimate for a generator installation?
Contact Jon Wayne today to schedule a free in-home generator estimate. Our friendly and knowledgeable experts will review your home's size, appliances, electrical needs, and other key factors to help you find the right generator for your home and budget. We can even review financing options with affordable payment plans to help ease your upfront investment costs.
Plus, you can rest easy knowing that all of our generator installations are backed by a 5-year parts and labor warranty and our 100% satisfaction guarantee. Schedule your free estimate today!
---
Generator Size
Larger generators provide greater power capacity. For this reason, they tend to cost more, both in purchase price and installation.
For example, larger generators will come with a larger engine, more complex wiring, and possibly more advanced components, such as an automatic transfer switch. All of this will increase the installation costs, as generators need to be installed by experienced electricians who are licensed to work with high-voltage connections. Larger generators also consume more fuel, which will increase your operating costs.
A smaller generator will probably cost you less. However, it's important to find the right size for your needs, as a poorly sized generator can impact your costs in other ways.
For example, a too-small generator will not be able to power all of the appliances and systems in your home during a power outage. Not only will you have wasted money on a generator that doesn't meet your household's needs, but you could end up with deciding whether to keep the heat on or the lights if you can't power both.
Ultimately, finding the right size generator for your home is crucial to ensure adequate power during an outage and avoid unnecessary expenses or potential damage to your electrical system.
Fuel Source
Whole-home generators rely on fuel to operate, and the fuel source you choose will impact the cost of installation.
There are several options for fuel sources, with the most common being natural gas, propane, and diesel.
Natural gas is often the most cost-effective and convenient option, as it is usually available through an existing utility connection, which can reduce installation costs. You also won't need a storage tank, as your gas line will supply the gas connection.
Propane is also a good choice for generators but requires a storage tank. Depending on the size of fuel tank you need, your costs may fluctuate. However, if you already have a large propane tank on-site, this may influence your decision.
Diesel generators are typically the most expensive option, but they may be the best choice for homes in areas without access to natural gas or propane.
The fuel source will also impact your operating costs, as fuel costs and availability can vary depending on the chosen source. It's essential to consider the pros and cons of each fuel source and work with a professional installer to determine the best option for your needs and budget.
Installation Location
Your installation costs can increase if the area requires special excavation or foundation work.
Installing a whole-home generator isn't like buying a fridge, oven range, or other household appliance. To install a generator, you need plenty of room for the equipment and a clear pathway for the exhaust. A whole-home generator needs a cooling and combustion air supply, so it's important to consult a professional before investing in a system.
You may also have to install a concrete slab before you install your whole-home generator, which will increase the cost of the installation project. The requirements depend on local building codes, so speaking with a code enforcement officer before purchasing is helpful.
Electrical Modifications, Wiring, and Permits
Installing a whole-home generator may require new electrical wiring or upgrading your existing electrical system.
For example, if you live in an older home, your current wiring may not be up to code. As a result, you may have to hire an electrician to upgrade the wiring, install new outlets or make other electrical modifications.
The Service Company You Hire
Hiring a reputable service company with the licenses, certifications, and experience to install a whole-home generator will cost you more than using a newbie contractor. However, they will ensure the generator is installed in compliance with local codes and regulations, reducing the risk of electrical or structural issues.
Additionally, reputable service companies often offer warranties or maintenance plans that can help keep your generator running efficiently and safely for years to come. This will save you time, money, and potential safety hazards in the long run.
---
Trust Jon Wayne for expert whole-home generator installations. Schedule a free in-home estimate today.
At Jon Wayne Service Company, we offer free in-home estimates, taking the guesswork out of budgeting for a whole-home generator and any desired upgrades. After we evaluate your electrical needs, we'll help you choose a model that works for your family. Whether you're looking for a basic model or something more substantial, one of our experienced professionals will share their knowledge and ensure you understand what's required for a smooth installation experience. We even look for applicable rebates and other options to help you save money. Plus, every new generator installation comes with 1 year of our Rescue Club membership, which includes the first tune-up and annual inspection, free!