HydroKleen AC Cleaning in San Antonio, TX
Don't just clean your AC coil — HydroKleen it
It's not your typical cleaning.
If you're spending a lot of time indoors, it's worth thinking about your AC's cleanliness. When your AC system is clean, you keep both your AC's performance and indoor air quality at their best.
We clean your AC with HydroKleen, a high-pressure water pump that rids your AC system of bacteria, mold, and contaminants and restores your AC to factory-fresh conditions.
Choose HydroKleen and take a clean breath of relief.
Saves money on utility bills

Extends the life of your AC

Restores AC to factory conditions
Price
Cost to install a ductless AC:
Low

$240

Average

$695

High

$1,500
*All prices shown are estimates and can vary depending on a variety of factors. For an accurate price for your project, call (210) 293-6700.
What is the main cost factor?
Accessibility of the system: If the system is difficult to access (e.g. needing to cut lines to get to the AC), the price of the HydroKleen will increase.

How can I save money with HydroKleen?
When your AC coils are dirty, it has to work harder to cool your home which runs up your utility bills. A thorough hydrokleen deep cleans your AC to keep it running optimallyand improve your indoor air quality.
On top of saving on energy costs, your AC lasts longer when properly cleaned so you won't have to spend money on replacing or repairing the unit because it's breaking down prematurely.
Benefits
Benefits of HydroKleening
We are the only service company in the San Antonio and Austin areas licensed to use HydroKleen. Other service companies use multiple AC cleaning methods, but at Jon Wayne, we only use HydroKleen because:
It uses safe cleaning agents: The cleaning materials used are friendly to people with skin conditions, allergies, hay fever or asthma.
It easily cleans the AC coil: Usually, HVAC technicians charge extra to clean indoor AC units because the process is laborious and requires disassembling ACs. HydroKleen doesn't require dismantling ACs, which means we can offer the service at a lower cost to our customers.
It's the safest way to clean your AC: HydroKleen thoroughly cleans dirty AC coils and blower motors without damaging the components.
It rehabilitates super dirty central ACs: If your central AC system is restricted because of filth, HydroKleen cleans it so rigorously that you can wait a few more years before another AC cleaning.
It's great for annual ductless AC maintenance: HydroKleen has specialized features to thoroughly clean a ductless AC.
Video
Brent HydroKlees an AC
How it works
Our AC cleaning process
Schedule a free evaluation

We offer short appointment slots that work with your schedule.

Get red-carpet pricing options

During your free evaluation, we'll use a camera to inspect the inside of your AC to determine if HydroKleening will work for your system. If it won't, we will provide alternative suggestions so you don't waste time or money. If it will, we'll let you know how much your AC cleaning will cost upfront.

Relax while we clean your AC

We HydroKleen with a high-pressure water pump that sprays a non-toxic and non-damaging agent over your AC. Once it soaks in, we'll wash down both the inside and outside units.

Enjoy a comfortable, clean home

We'll leave your home cleaner than we found it.
Schedule cleaning
100% satisfaction guarantee
"Process was very thorough"

Jon Wayne uses a new process, HydroKleen, that really cleans the AC/Heater. The process looked very thorough. Their technician, Edward Gaitan, was friendly, informative and efficient. I am glad to have Jon Wayne performing the maintenance. In fact, that maintenance was why I chose Jon Wayne to install my unit

—Rick N.
How we treat the customer contributes to our reputation.
Need your AC cleaned? Send for Jon Wayne!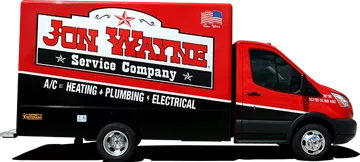 Proudly serving the San Antonio & surrounding areas:
New Braunfels
South Austin
Bee Cave

Kerrville
Kyle/Buda

San Marcos
Lockhart
Canyon Lake
and more...