Ductwork replacement in San Antonio, TX
Reliable & Convenient Ductwork Service
Want professional duct replacement options in San Antonio? Contact Jon Wayne.
For over 20 years we have designed and rejuvenated ductwork in Texas. When your ductwork is in good shape, your home comfort system will run more efficiently and can reduce your utility bills.
100% satisfaction guarantee

100% NATE-certified technicians

Extends the life of your AC
Price
What's the cost to replace ductwork?
Diagnostic cost: $29+ (waived with replacement)
Replacement cost:
Low

$1,500

Average

$6,000

High

$12,000
*All prices shown are estimates and can vary depending on a variety of factors. For an accurate price for your project, call (210) 293-6700.
What affects the cost?
The cost of your ductwork replacement will depend on:
Duct Design & Material - Each duct system is 100% engineered and designed for every home. This ensures maximum airflow, efficiency and comfort.
Square footage of your home - The more ductwork needed, the more expensive your replacement cost will be. More square footage means more material needed for the ductwork and more time needed by a technician to replace your existing ductwork.
Location of your ductwork -The harder your ductwork is to access, the more labor-intensive replacing it will be, which will increase the cost. If your walls or ceilings are damaged, you'll have to factor in the cost to repair them in addition to the cost of your duct replacement.
Want more accurate pricing? Schedule an in-home diagnostic!
Repair vs. Replace
Should I repair or replace my ductwork?
Sometimes, it can be difficult to know whether you need a simple repair or if your entire duct system needs to be replaced. We would suggest replacing your duct system if:
Your AC bills have increased dramatically
You've noticed excess dust around your home
You've noticed hot and cold spots throughout your home
While we know the thought of paying for a new duct system can be daunting, sometimes it's more cost-effective to replace your ductwork altogether rather than continuously rejuvenating or repairing it.
How it works
Our convenient ductwork replacement process:
Schedule appointment.

At Jon Wayne, we respect your time, so we'll give you a 2-hour appointment slot and stick to it. That way, you aren't waiting around all day for us to show up.

Get red-carpet service.

After an in-home inspection, we'll provide you with upfront pricing and get to work.

Relax while we replace your ductwork.

We'll thoroughly explain what we're doing as we go about replacing your ductwork so you never feel out-of-the-loop.

Enjoy a comfortable, clean home.

We never want to have our customers pick up after us, which is why we'll always leave your home just as clean as we found it.
Schedule Service!
100% satisfaction guarantee
"Should have called Jon Wayne first"

Jon Wayne did us right! We had another company try to replace our air ducts and they worked for three days and we were told that they were only halfway complete. We knew this was a mistake and called Jon Wayne.

Josh Estrada, our service rep, came out to the house and conducted a thorough inspection of our attic space. He detailed what needed to be done and what work the other company promised to do was unnecessary.

We set up an appointment and the entire air duct system with six new vents installed in bathrooms and a new addition to our house was completed in one day. And even with extra vents and associated ductwork, the price was very comparable to what the other company quoted us. We should have called Jon Wayne first and it would have saved us a lot of stress and headaches. I highly recommend Jon Wayne.

—David H.
How we treat the customer contributes to our reputation.
Need your ductwork replaced? Send for Jon Wayne!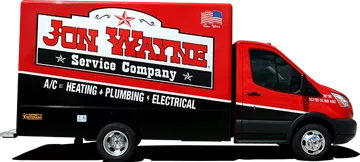 Proudly serving San Antonio & surrounding areas:
New Braunfels
South Austin
Bee Cave

Kerrville
Kyle/Buda

San Marcos
Lockhart
Canyon Lake
and more...