Pipe leak repairs in San Antonio, TX
Excellent & Efficient Pipe Leak Repairs
Have a pipe leak? Don't get stuck waiting for a plumber to arrive as your utility bills increase. Contact Jon Wayne for efficient, high-quality pipe leak repairs. We offer fast and convenient help and same-day appointments.
Not only do we offer pipe leak repair services, but we also offer sewer line inspections and repair services if a leak affects your sewage line.
100% satisfaction guarantee

90-day labor warranty

10,000+ 5-star reviews
Price
What's the cost of a pipe leak repair?
Repair cost:
Low

$156

Average

$500

High

$1,200
What affects the cost?
The location of the pipe. Plumbers usually charge more if the pipe is located in a hard-to-reach place, like in a wall or under your yard. The harder a pipe is to access, the more time a plumber needs to spend finding and repairing it, which increases your overall repair cost.
The type of material used for the pipe. The cost of your repair also depends on what type of piping material you have. For example, if you have copper pipes, your repair will be more expensive than if you have PVC pipes because a plumber will need to solder the pipe to repair your leak.
Whether or not you hire a certified plumber. You'll pay more upfront for a high-quality and certified technician but that higher initial cost will likely pay off in the long-term. When you invest in a trustworthy plumber, you'll take on less long-term risk since you typically won't need to pay for repeat work.
Repair vs Replace
Should I repair or replace my pipes?
We understand why homeowners prefer to repair their pipes over having to fund an entire plumbing system replacement. However, as your pipes degrade over time, replacing your pipes eventually becomes more cost-effective than repairing them.
You should consider replacing your pipes if they were ...
Installed in the 1980s or earlier. Older pipes are likely to contain lead.
Made with cast iron, iron or galvanized steel. These materials corrode and rust over time.
Repaired frequently in recent years. Repairing your pipes isn't a good return-on-investment if you have to repair them again a month later.
How it works
Our Convenient Process:
Easily schedule an appointment.

You can schedule same-day service and we'll be done with your pipe leak repair in 2 hours on average.

We'll leave your home cleaner than we found it.

We'll arrive on-time with shoe covers, drop cloths and our famous red doormat.

Have your options thoroughly explained.

We will diagnose the leak and provide repair options with upfront pricing.

Relax during and after our repair.

Our technicians will complete your pipe leak repair to your satisfaction or you get your money back.
Schedule repair
100% satisfaction guarantee
"They arrived within an hour on NYE"

I just love this company. We experienced a major water leak with flooding at our San Antonio home on New Year's Eve. We thought it was an AC issue & called for service. Kevin arrived within an hour & determined it was a pipe leak rather than the AC; within 2 hours Joe, the plumber, arrived to find the problem. This was all on NYE.

Follow-up service was arranged with master plumber Troy, who did an outstanding job in testing, locating & doing the pipe leak repair. Then Pablo came to fix the sheetrock & did an incredible job of repairs behind the toilet and in a closet. He spent as much time in these areas as a living room of a house. We could not be more pleased with the response and the expertise of Jon Wayne technicians.

Also, when a customer calls Jon Wayne, he or she is greeted, by a friendly representative who starts the conversation with "How can I make you smile today?" Excellent, excellent customer service. Thank you for all that you do.

—Carolyn C
How we treat the customer contributes to our reputation.
Want an Outstanding Pipe Leak Repair? Contact Jon Wayne!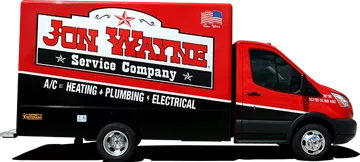 Proudly serving San Antonio & surrounding areas:
New Braunfels
South Austin
Bee Cave

Kerrville
Kyle/Buda

San Marcos
Lockhart
Canyon Lake
and more...