Shower fixture repair services in San Antonio, TX
Same-Day Shower Fixture Repairs At Honest, Flat-Rate Prices
100% satisfaction guarantee

Licensed, insured plumbers

10,000+ 5-star reviews
Price
What's the cost to repair a shower fixture?
Diagnostic cost: $29+ (waived with repair)

Repair cost:
Low

$156

Average

$785

High

$1,980
*All prices shown are estimates and can vary depending on a variety of factors. For an accurate price for your project, call (210) 293-6700.
What affects the cost?
Repair vs. Replace-The cost to repair your shower fixture will typically be less expensive than installing a new shower fixture. However, depending on the type of repair needed, it may be more cost-effective in the long run to replace your shower fixture than repair it.
Age- If your shower fixture is old and hasn't been updated in a while, it may cost more to repair it. Typically, if your shower fixture is old, there will be several parts that need to be updated by a professional, like piping. Since this will add both parts and labor costs, it will increase the total cost of your service.
Part or parts that need to be repaired- If you are looking for a shower fixture repair, the part or parts that need to be repaired will have a big impact on the overall cost of your service. Another cost factor to keep in mind is the potential underlying issue that has caused damage. For example, if your issue is low water pressure, you may have mineral buildup in your pipes, which can be removed by a plumber. However, if there is an underlying issue causing mineral buildup (hard water) that you will probably want to address to prevent yourself from paying for the same repair down the line. Any extensive, underlying issues that need to be fixed will increase the total cost of your service.
How it works
Our convenient process:
Easily schedule an appointment.

Need a same-day repair? We've got you covered. We try to provide convenient and short appointment slots, so you aren't waiting forever for us to show up.

Get red-carpet service.

When your appointment arrives, you can count on us to show up on time, roll out the red carpet and put on shoe covers before we enter your home.

Relax while we repair your shower fixture.

If you've called us for a repair, we'll take our time diagnosing the issue and provide you with a recommended repair plan and its associated cost. If you agree to the repair or repairs needed, we'll waive your diagnostic fee and get straight to work.

Enjoy a working shower.

Once your shower fixture has been repaired or installed, we'll clean up our workspace and be on our way.
Schedule repair!
100% satisfaction guarantee
"Although the employees were having their company holiday picnic, they sent a plumber out to our home in just a few hours."

We experienced a small emergency when our master shower started dripping quite a bit of water late at night. First thing in the morning we called Jon Wayne and although the employees were having their company holiday picnic, they sent a plumber out to our home in just a few hours. Repair was quick and reasonably priced. We have used this company several times and have been impressed by all of their employees. Highly recommend.

—Jayme G.
How we treat the customer contributes to our reputation.
Want an Outstanding Shower Fixture Repair? Contact Jon Wayne!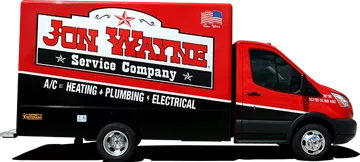 Proudly serving San Antonio & surrounding areas with integrity:
New Braunfels
South Austin
Bee Cave

Kerrville
Kyle/Buda

San Marcos
Lockhart
Canyon Lake
and more...