How Often Should You Maintain Your Furnace in Texas?
With cold weather approaching, many Texas residents are thinking about the health and efficiency of their HVAC systems and, more specifically, whether or not their furnaces will make it through winter without any problems.
Furnace maintenance is one way to guarantee your heating system will keep you warm and comfortable throughout the cold season.
So, how often should you have your furnace maintained? Experts recommend having a professional HVAC technician service your furnace once a year.
While this may seem like something an HVAC company says just to upsell you, annual furnace maintenance actually provides a ton of benefits. In this blog, we'll explain when you should schedule maintenance, as well as:
The benefits of maintenance
How much furnace maintenance costs
What annual maintenance involves
---
Ready to speak to a heating expert? Need your furnace serviced ASAP? At Jon Wayne, we offer a whole-home maintenance plan that includes annual precision tune-ups on four major systems in your home (heating, cooling, plumbing, and electrical), discounts on repairs, unlimited FREE service calls, and much more, starting at just $29 a month. Call Jon Wayne at (210) 293-6700.
Schedule free estimate
---
When To Have Your Furnace Maintained
Like most things in life, planning ahead can save you time, money, and frustration– and it's no different when it comes to your heating system.
HVAC experts say that up to 75% of service calls in the winter are related to a lack of maintenance. Failure to perform required maintenance is one of the most common causes of HVAC breakdowns. So, to avoid a sudden breakdown when you need your furnace the most, be sure to have your annual maintenance scheduled ahead of time.
Experts recommend hiring a professional to service your furnace once a year. Since you'll want to ensure your furnace is in tip-top shape before you need to use it daily, it's a good idea to schedule your furnace maintenance in late summer or early fall.
Maintaining your heating system before winter will guarantee your system will run at its best when the demand for heat is the greatest. However, it's never too late! Heating system maintenance can be performed any time of the year, and could prevent a breakdown.
The Benefits of Maintenance
Just like changing the oil in your car, annual furnace maintenance is a necessary part of caring for your HVAC system. The average furnace is intended to last between 15 and 30 years. However, they'll only last this long if they're taken care of and professionally serviced on a regular basis.
A furnace inspection and service can extend the lifespan of your system, help you save energy, and keep your family and your home safe. Furnace maintenance can also:
Reduce energy bills
Increase your comfort
Eliminate safety hazards
Maintain your manufacturer's warranty
Decrease the likelihood of unexpected, costly repairs
Over time, the parts and components inside your furnace get dirty, crack, wear out, and break. When one part isn't working properly, it can impact the overall performance of your furnace and cause other parts of your furnace to wear out more quickly and eventually break altogether.
With scheduled maintenance, an HVAC professional will check all of the components of your furnace regularly and will be able to catch any damaged or broken parts before they get worse. This will prevent small issues from snowballing into larger, more expensive problems down the road.
Lastly, most manufacturers require that you have your furnace maintained annually by a licensed professional. If you fail to have your yearly inspection and service, your warranty could be void and any future repairs might be 100% out-of-pocket expenses.
How Much Furnace Maintenance Costs
HVAC maintenance in Texas can cost anywhere from $50 to $300+. The variation in price depends on a few factors, like:
Whether the visit is part of a maintenance plan or is an individual service
How extensive the maintenance visit is
The company or contractor you hire
One-time tune-ups are usually less expensive than maintenance plans; however, maintenance plans can offer you more significant long-term savings. Most maintenance plans are offered at a low monthly price and come with a ton of other benefits that can save you money long-term.
For example, our maintenance plan at Jon Wayne, the Five Star Service Club, includes annual precision tune-ups on four major systems in your home, including heating, cooling, plumbing, and electrical, as well as:
Discounted home service repairs
Front-of-the-line Priority Repair service
Unlimited FREE service calls
Preferred customer pricing
24/7 customer concierge hotline
$50 in Loyalty Credits per year
Even though maintenance plans are more expensive than one-time tune-ups, they are usually the better investment because of the added perks and discounts that come with them.
What Annual Maintenance Involves
It's important to find a reputable, trusted HVAC contractor who provides upfront pricing and a guaranteed checklist of items to be inspected during your tune-up or maintenance visit.
According to Energy Star, a maintenance professional should perform the following tasks during a typical maintenance visit:
Check thermostat settings
Tighten all electrical connections
Lubricate all moving parts
Inspect the condensate drain
Test all controls of the system
Change air filters if dirty
Check gas pressure and burner combustion
Inspect and clean the heat exchanger
Before you hire a contractor to perform your maintenance service, be sure to check that they complete the list above, at minimum. If they don't, you'll want to keep looking for a technician that does meet those minimum requirements. You'll also want to check with your local licensing agency to see if the company is licensed, bonded, and insured, and ask for references from the company.
Want Heating Advice From a Professional You Can Trust? Call Jon Wayne!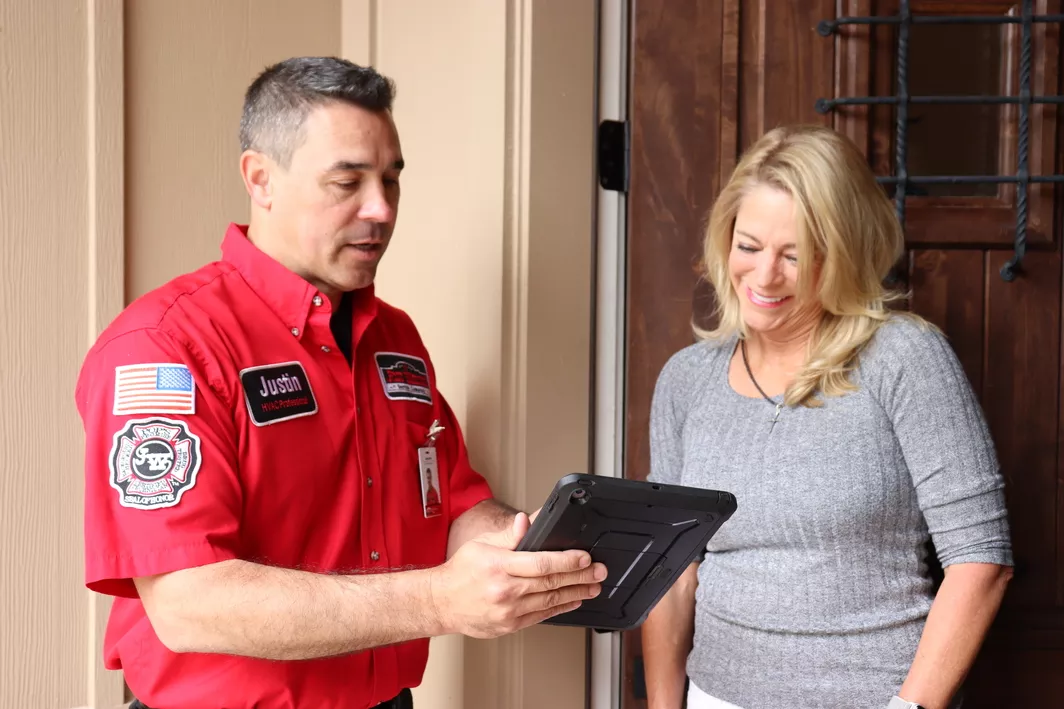 Contact Jon Wayne today. Our highly-trained, NATE-certified techs provide honest advice that's tailored to your home's needs and budget. Plus, when you choose us to install or repair your heating system, you can rest easy knowing that all work is backed by solid warranties and a 100% customer satisfaction guarantee.
Learn more about what to expect when you hire us by visiting our heating services page.
Schedule a free estimate